Posted by By Workshop Graphics - Words and photo by Andy McGechan, www.BikesportNZ.com on 14th Mar 2016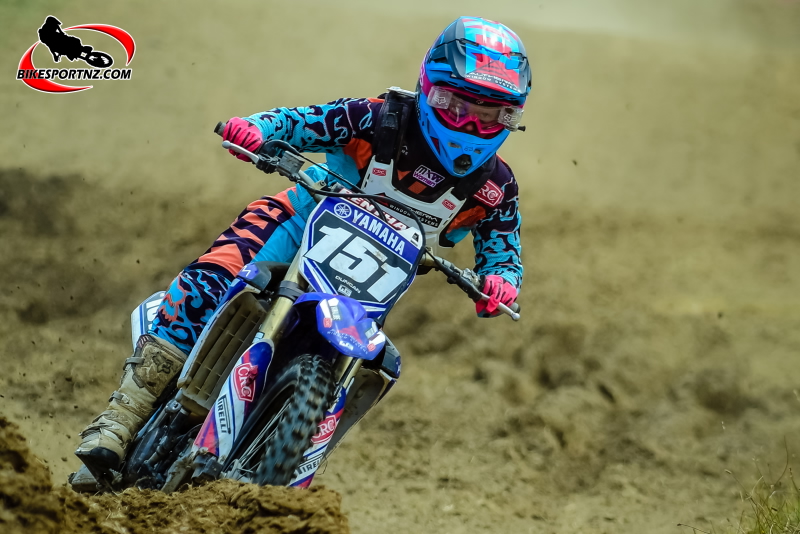 FEBRUARY 29, 2016: It seems everyone was braced for "Cyclone Courtney" at the weekend, except her victims.
Everyone in New Zealand knew she was coming, but the shock was still profound when Otago's Courtney Duncan cut a swathe through her opposition at the opening round of the Women's Motocross World Championships in Qatar on Sunday morning (NZ time).
The mostly-unheralded 20-year-old Duncan (Altherm JCR Yamaha YZ250F) battled nerves as she qualified fourth fastest in Qatar, but then she wreaked havoc on race night, winning both races comfortably.
Sharing the programme with the premier men's MXGP and MX2 categories and raced under lights at night, but still an extremely warm 24 degrees Celsius, Duncan won both her two races ahead of French former world champion Livia Lancelot (Kawasaki).
Duncan, from the remote town of Palmerston, won the first race by more than 27 seconds and the second race by more than 28 seconds.
Dutch rider Nancy Van Der Ven (Yamaha) finished the night third overall with a 3-4 score-card.
Defending women's world champion Kiara Fontanesi (Honda), from Italy managed 11-3 results to end the night only fifth overall.
The writing had perhaps been on the wall for Duncan's dominance after her stunning performance in winning the MX2 class at the big annual stand-alone New Zealand Motocross Grand Prix at Woodville a month earlier.
But still she had been billed as a 'rookie' when she lined up to race at Qatar and that was perhaps no surprise because this was her first tilt – and supposedly her only – tilt the Women's World Championships competition.
This event was the sole round of the six that Duncan had been entered for, a "testing of the waters" so to speak, but her results at the weekend have now enabled her to mount a full campaign.
Although unable to be with her, Duncan's mentor and Altherm JCR Yamaha team boss in New Zealand, two-timer former world motocross No.2 Josh Coppins, from Motueka, was naturally delighted with her performance in Qatar.
"To be honest, it's what we expected," said Coppins.
"We expected big things from her and we prepared her well. We made sure she would be as ready as she could be. It was a big challenge for her to tackle her first WMX (Women's World Championship) races, with a new bike and the huge distance to travel from New Zealand, and a lot was stacked against her.
"But I believe the best is yet to come.
"She can improve upon her performance at round two and, yes, she's now going to round two at Valkenswaard (in the Netherlands, on March 28). But, for now, she needs to savour the moment of her first wins.
"A full series campaign is now coming together for her. There was a lot to set up before she went to Qatar and she delivered. So now she's in a good position to continue.
"We need to work out what's best for her. There's a lot to discuss.
"Unfortunately I could now be with her in Qatar because I was with the Altherm JCR Yamaha team at round two of the New Zealand Motocross Championships this weekend, and I'm a bit sleep-deprived after staying up all night to watch her races live, but I will be with her at Valkenswaard."
Coppins said her preparation for the deep sand track of Valkenswaard would involve her training on Oreti Beach, at Invercargill, the home of the "World's Fastest Indian", Burt Munro.
Duncan and her Altherm JCR Yamaha Racing team is supported by Altherm Window Systems, Yamaha, JCR, CRC, Ados, GYTR, Yamalube, Fox Racing, Hollands Collision Centre, Star Moving, Ward Demolition, Fulton Hogan, Pirelli, FMF, DID, NGK, Matrix, Renthal, Motomuck, Workshop Graphics, Motoseat, Hammerhead, SKF, Vertex Pistons, Rtech Plastics, Etnies, Biketranz and Fulton Hogan.