Posted by By Workshop Graphics - Words and photo by Andy McGechan, www.BikesportNZ.com on 17th May 2015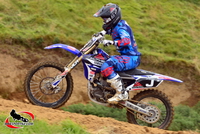 WILSON STRETCHES HIS MX2 CLASS ADVANTAGE
CAPTION: Australian Jay Wilson (Altherm JCR Yamaha Racing YZ250F), with a hat-trick of wins at the weekend to emphasise his dominance of the MX2 class at the New Zealand Motocross Championships. Photo by Andy McGechan, BikesportNZ.com
FEBRUARY 23, 2015: Kiwis be warmed, Australian Jay Wilson is just getter faster and faster.
The 20-year-old from Tweed Heads, near Coolangatta on the Gold Coast, took his Altherm JCR Yamaha YZ250F to annihilate the MX2 (250cc) class field at the second of four rounds of the JT Racing-sponsored New Zealand Motocross Championships at Pleasant Point, near Timaru, on Sunday, racing away to an incredible hat-trick of wins.
He had finished 1-3-3 at the opening round of the series near New Plymouth a fortnight ago, but stepped it up a notch to make it 1-1-1 at Timaru on Sunday, extending his lead from four points over Amberley's Micah McGoldrick to now lead new class No.2 man Hamish Harwood, of Takaka, by a whopping 20 points.
It is perhaps particularly satisfying for Wilson because Harwood finished runner-up to Serco Yamaha's Luke Clout in the MX2 class in the Australian Motocross Championships last season, while Wilson settled for fourth overall, and now the tables are turned.
Wilson's performance on Sunday came as no surprise to Altherm JCR Yamaha Racing Team boss Josh Coppins.
"I expected this, to be honest," said former world championship Grand Prix star Coppins.
"He is really now starting to fire and we just need him to maintain that momentum. A hat-trick of wins is just what I would have expected from him in top form and, still coming off injury, he's not quite there yet. He'll get even better from here on."
Coppins admitted it had been a tough day for his riders in the MX1 and 125cc classes, with both Queenstown's Scott Columb and Taupo's Cohen Chase slipping off the top of their respective class standings after Timaru.
"Scott struggled in the MX1 class all day and I'm not sure why. He had a huge crash during practice early in the day and, although he wasn't badly injured, that may have had something to do with it.
"Cohen had a bit of bad luck and lost a few points on (new class leader) Josiah Natzke. He went from dead last after a crash in race one to finish fourth and that was impressive. He just needs to stay strong and do the best he can through the rest of the series."
Round three is set for Rotorua on March 8, with the fourth and final round at Pukekohe on March 15.
The Altherm JCR Yamaha Racing team is supported by Altherm Window Systems, Yamaha, JCR, CRC, Ados, GYTR, Yamalube, Fox Racing, Hollands Collision Centre, Star Moving, Ward Demolition, Fulton Hogan, Pirelli, FMF, DID, NGK, Matrix, Renthal, Motomuck, Workshop Graphics, Motoseat, Hammerhead, SKF, Vertex Pistons, Rtech Plastics, Etnies, Biketranz and Fulton Hogan.
Words and photo by Andy McGechan, www.BikesportNZ.com