Posted by By Workshop Graphics - Words and photo by Andy McGechan, www.BikesportNZ.com on 14th Mar 2016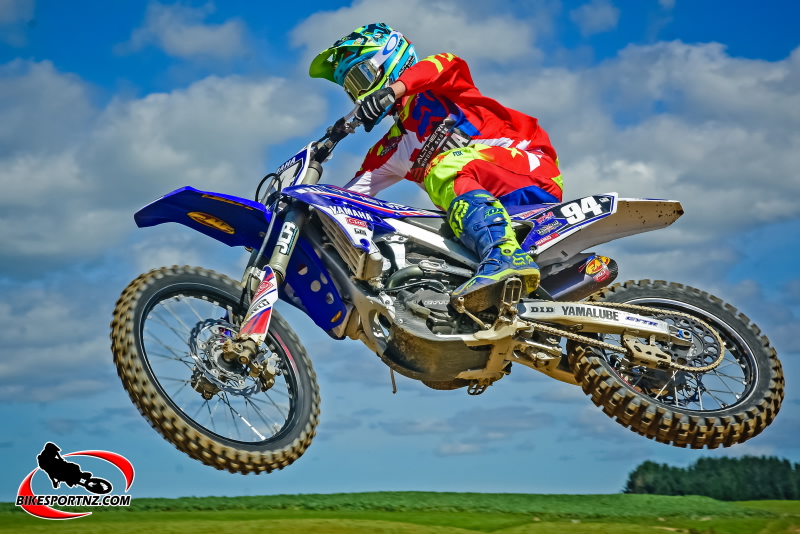 Racing at the third round of four in the 2016 New Zealand Motocross Championships at Horohoro, just outside Rotorua, the Altherm JCR Yamaha Racing Team rider was simply untouchable, racing his way to a hat-trick of wins in the hotly-contested MX2 (250cc) class.
If he had not crashed and knocked his head at the previous round in the Manawatu a fortnight earlier, forcing him to the sidelines and rendering him unable to score in two of that day's three races, Lamont could well be considered the title favourite.
As it is, Lamont's performance at Rotorua on Sunday saw him leap from eighth equal to fourth in the standings, albeit still a whopping 48 points adrift of Takaka's series leader Hamish Harwood (CML KTM 250F).
With two non-point-scoring races in the nine races thus far, Lamont's position in the championship standings is still remarkable, although his realistic goal now is simply to nudge his way into the top three and therefore onto the final championship podium.
To do that, the 22-year-old Lamont will need to catch and overtake his Altherm JCR Yamaha Racing team-mate Ethan Martens, who, like Lamont, is also a former national champion, and that will not be an easy task with Waitakere rider Martens also in top form.
Lamont is 14 points behind Martens.
It was a Yamaha 1-2-3 in the MX2 class on Sunday with Australian visitor Jed Beaton (Triple B Valley Fresh Yamaha YZ250F) finishing overall runner-up to Lamont, with Martens taking the third step on the podium.
Beaton is second in the championship standings, 13 points behind Harwood.
"I was only cleared (by medical staff) to race on Tuesday after taking that knock to my head at round two," Lamont explained.
"I rode the bike on Wednesday, Thursday and Friday to prepare for the weekend and it all came together of me on Sunday.
"The track was brutal and, if you made a mistake, it would hammer you. Fortunately I didn't make any mistakes. I have been suffering from a terrible cold all week too and I was really hurting in the last race.
"I'll just go now to the final round in Taupo next weekend and hope I can do this all again and see what it brings in terms of a final championship ranking."
Meanwhile, the defending champion in the MX1 class, Mount Maunganui's Cody Cooper, came on strong at Rotorua to snatch the points lead away from Lamont's luckless Altherm JCR Yamaha Racing team-mate from the Gold Coast, Dean Ferris, and Cooper now enjoys a three-point advantage over another Australian, Todd Waters, as they head to the final round.
Ferris had led the class after rounds one and two, but a succession of crashes at Rotorua on Sunday saw him bleed points at an alarming rate.
Ferris is now third overall, two points behind fellow Australian Waters, but, with 75 points on offer at the final round next weekend, he remains a very strong contender for the outright win.
In the 125cc class, Ngatea's Ben Broad remains the championship leader, but his advantage over Taupo Yamaha rider Wyatt Chase has been trimmed from 28 points to 23 after Chase won the day at Rotorua, posting a 1-2-1 score-card.
The fourth and final round of the series is set for the Digger McEwen Motocross Park facility, on the outskirts of Taupo, on Sunday (March 20).
The Altherm JCR Yamaha Racing team is supported by Altherm Window Systems, Yamaha, JCR, CRC, Ados, GYTR, Yamalube, Fox Racing, Hollands Collision Centre, Star Moving, Ward Demolition, Fulton Hogan, Pirelli, FMF, DID, NGK, Matrix, Renthal, Motomuck, Workshop Graphics, Motoseat, Hammerhead, SKF, Vertex Pistons, Rtech Plastics, Etnies, Biketranz and Fulton Hogan.