Posted by Credit: Words and photo by Andy McGechan, www.BikesportNZ.com on 4th May 2016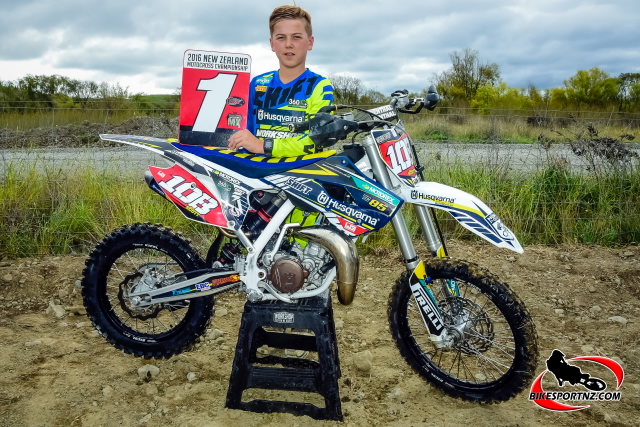 APRIL 26, 2016: It was the perfect farewell for Kiwi hero James Scott when, on the eve of his first big international campaign, he celebrated winning his first national motocross title.

A winner at multiple major events in New Zealand over the past few years, his victory has been long overdue and it was perhaps appropriate that he should win on Anzac Weekend, just days before he is about to head overseas to fight in the motocross trenches of Europe.

The 14-year-old from Oparau, near Kawhia, took his Workshop Graphics Husqvarna Factory Racing Team TC85 to a staggering six wins from seven starts over the Anzac Weekend, convincingly winning the 13-16 years' 85cc class title at the three-day New Zealand Junior Motocross Championships in Hawke's Bay. Scott finished third in this class last season.

His one "failure" at the weekend, when he finished race four in third place, was due to circumstances beyond his control, his bike's rear tyre going flat just two laps into the race. But even his finishing third in that race was remarkable in itself, battling against such a talented field of riders.

But, so dominant was Scott that he was 22 points in front of his nearest rival, Wairoa's Thomas Watts, with one race remaining on Sunday and, with 25 points available to the race winner and 22 points for second place, he needed only to finish to be assured of the crown.

And, just like in any good drama, that's when things got extremely interesting.
Scott crashed spectacularly while leading when he "got caught by the wind" over a huge jump. He crashed to the ground and smashed his helmet peak.

But Scott managed to shake off the pain, collect his wits and rejoin the race.
Although looking battered and bruised, he was soon back into the lead, with Watts and Rongotea's Toby Winiata, on a similar Husqvarna TC85, continuing to chase him hard.

But that was the finish order in the deciding final race and Scott finished the championship on top, 27 points clear of Watts, with Palmerston North's Zac Jillings ending up third overall, another 27 points further back.

Napier's Jacob Beal and Palmerston North's Hunter Miller rounded out the championship top five in this class.

Scott now packs his bags to leave for Lommel, in Belgium, where he will be based while he tackles the European 125cc (EMX150) Championships.
With guidance and mentoring from New Zealand former world champion and current Grand Prix racer Ben Townley, Scott's first EMX150 race will be on May 8-9 at Teutschenthal, near Leipzig, in Germany.

Five weeks later he races again at Matterley Basin, near Winchester, in England.

"This is a huge deal," said Scott. "If I can win this EMX150 championship I may earn myself a factory ride in the EMX250 series the following year. I'm really looking forward to it all."

Scott's EMX150 championship campaign will also see him race in Belgium, Switzerland and The Netherlands.

His schooling will be via Google Classroom and, as a boarder and year 10 pupil at Hamilton Boys' High School, he has "already been weaned from living at home".

"I'm pretty excited," said Scott. "It is a huge opportunity for me. Patrick (Stafford) at Husqvarna New Zealand has been so supportive and I can't thank him enough either."

Meanwhile, other classes winners in the junior nationals at the weekend were Ohaupo's Trent Collins (14-16 years 250cc class), Taupo's Wyatt Chase (15-16 years 125cc class), Dunedin's Grason Veitch (12-14 years 125cc class); Matamata's Brodie Connolly (11-12 years 85cc class) and Tokanui's Mitchell Weir (8-10 years 85cc class).