Posted by By Workshop Graphics - Words and photo by Andy McGechan, www.BikesportNZ.com on 14th Mar 2016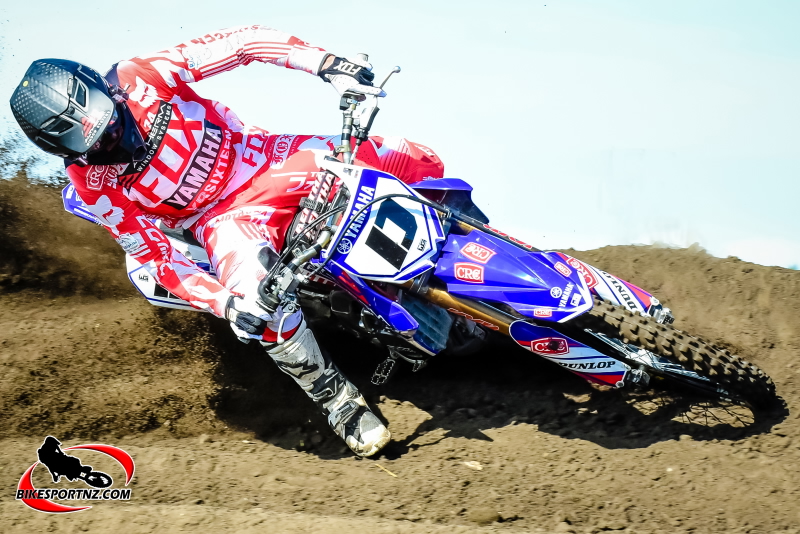 MARCH 1, 2016: The grip continues to tighten as the high-profile Altherm JCR Yamaha Racing Team heads into the second half of its New Zealand Motocross Championships campaign.
Australian import Dean Ferris was again in command at the second round of four in the series near Palmerston North on Sunday.
The new venue at Himatangi became progressively rougher as the day wore on, the sand-based track offering no let-up as it wore down both man and machines, but Ferris seemed to thrive in it and posted an impressive 3-1-1 score-card in the MX1 class, extending his championship lead to 14 points over the new man in the No.2 position, fellow Gold Coast rider Todd Waters.
With the series now at the halfway stage, Ferris can look back and feel extremely satisfied with his performance – he has won five of the six races in the championship thus far.
The only "blip" on Ferris' performance was his finishing third in the day's first race at Himatangi.
"I made a mistake in choosing the wrong tyres for the first race," explained Ferris, who had led until two-thirds of the way through the race and then began to drop back before settling for third.
"Todd (Waters) and Cody (Cooper, the defending national MX1 champion from Mount Maunganui) are riding really well and my arms tightened up because I couldn't get any rest ... they were on me all day.
"Races two and three were a huge battle between me and Todd. We've been racing each other like this for 10 years now," he laughed.
"Todd was strong today but I managed to get the job done.
"I have the (stand-alone) Conondale Cup to race at home this weekend and then I'm back for the final two rounds in New Zealand. I'll just keep working hard. I know Todd and Coops won't be giving up."
The results were mixed for the Altherm JCR Yamaha Racing Team's two MX2 (250cc) class riders.
Waitakere's Ethan Martens, riding a YZ250 two-stroke bike, and Mangakino's Kayne Lamont, on the four-stroke YZ250F, set the two quickest times in qualifying, and looked on track for a positive afternoon of racing.
However, it then unravelled for Lamont, who finished runner-up to series class leader Hamish Harwood in the first race but then crashed out while leading the next race. Lamont's head struck the ground and, shaken by the incident, he opted to withdraw from the rest of the day's programme.
Martens battled throughout the day and came away with 6-3-3 results, good enough for third overall on the day, behind KTM rider Harwood and Australian Triple B Valley Fresh Yamaha Team rider Jed Beaton, but it also meant Martens moved himself up from sixth overall after round one to now sit fourth overall for the series.
The second half of the Kiwi motocross calendar takes riders to the Rotorua Motorcycle Club's track for round three on March 13, with the fourth and final round set for the Digger McEwen Motocross Park facility, on the outskirts of Taupo, on March 20.
The Altherm JCR Yamaha Racing team is supported by Altherm Window Systems, Yamaha, JCR, CRC, Ados, GYTR, Yamalube, Fox Racing, Hollands Collision Centre, Star Moving, Ward Demolition, Fulton Hogan, Pirelli, FMF, DID, NGK, Matrix, Renthal, Motomuck, Workshop Graphics, Motoseat, Hammerhead, SKF, Vertex Pistons, Rtech Plastics, Etnies, Biketranz and Fulton Hogan.